Adopted in 2015 at the end of the 24th Summit of Heads of State and Government of the African Union (AU), Agenda 2063 comes as an action plan to make Africa a united, prosperous and peaceful continent in the next fifty years. It is structured around 07 aspirations. Aspiration 6 refers to an Africa whose development is people-driven, which relies on the potential of its people, especially women and youth, which cares about the well-being of children. The well-being is a complex and difficult concept to grasp as its reality is dynamic and its content difficult to determine. However, it has for many years been a subject of research that mobilizes various disciplines and a political objective declared by national and international institutions. However, the observation in Africa is that of growing poverty and multiplication of inequalities and social injustices that hinder the well-being of its populations.
Definition of Well-being
The literature on well-being is abundant and there are diverse theoretical approaches. John Helliwell argues that well-being is a research topic in itself and allows us to appreciate the socio-economic impacts of public policies on society and individuals. It is, according to Michel Forsé and Simon Langlois, "carrying a social demand and a public utility in a global context marked by the rise of social inequalities, and the resurgence of societal protests.
Studies on well-being initially carried out in developed countries have been extended to developing countries in connection with studies on subjective poverty. Mireille Razafindrakoto and François Roubaud highlight the role of institutions on subjective well-being. This concept of well-being takes on various meanings in Africa depending on the State. In Rwanda, for example, the concept of well-being appears in article 9 paragraph 5 of the revised Constitution of 2003 in these terms: "the Rwandan State undertakes (…) to build a State dedicated to well-being of the population and social justice". In article 14, it makes mention of the welfare of genocide victims. Understood in this way, well-being in Rwanda constitutes a political objective to be achieved by the State. Similarly, in the preamble to the Constitution of Cameroon of 1996 revised in 2008, it is written that the Cameroonian State is "resolved to exploit its natural resources in order to ensure the well-being of all by raising the standard of living conditions of populations without any discrimination (…)". The State of Cameroon thus indicates the means it will use to ensure the well-being of all: the exploitation of natural resources. The indicator of well-being is the population's standard of living. Nevertheless, the standard of living is equally a complex concept to define. In general, the standard of living is mainly apprehended by the income and the ability of individuals to consume goods and services. Improving the standard of living of the citizens in a State is thus according to the policies implemented to increase their income and their consumption of goods and services "without any discrimination". In Kenya, the preamble to the 2010 Constitution states "We, the people of Kenya, (…), committed to nurturing and protecting the well-being of the individual, the family, communities and the nation"
Well-being is therefore a permanent concern for African States, a concern shared in the AU Agenda 2063 in the form of an aspiration carried by the entire continent. Despite the goal of well-being enshrined in the Constitutions of African States and echoed in the AU Agenda 2063, governments face many challenges in realizing the well-being of all citizens on the continent. Well-being indicators are either non-existent or wrongly defined, and where they are identifiable, they are extremely low and sometimes even alarming.
Well-being Indicators
The concept of well-being is an important element in the definition given by the WHO : "health is a state of physical, mental and social well-being, and does not consist only in the absence sickness or infirmity ". However, the WHO does not provide a measure or indicator for evaluating well-being. Some authors indicate, however, that there are numerical indicators, which make it possible to measure different components of well-being. Studies on indicators of well-being are numerous. Analyzing the economic situation in South Africa in 1993, Dominique Darbon notes that the indicators of well-being follows precisely a nation's economic performance. In this perspective, the criteria of well-being can be developed from the definition given by Francis Danvers "well-being is a state in which not only primary needs such as food, clothing, health (physical and mental) and housing are satisfied, but also a way of being by which a person participates in social life, takes part in the culture and the established values, and can flourish to develop an autonomous personality, facing social constraints".
Well-being thus encompasses all aspects of an individual's life (psychic, moral, emotional and sentimental, material, physical and even spiritual). And the indicators of well-being thus apprehended are monetary and non-monetary. Caroline Guibert Lafaye presents "well-being as a mental state of pleasure (…), as satisfaction of preferences". It is therefore up to everyone to determine their well-being, hence the substantially subjective nature of well-being. But although subjective and therefore difficult to quantify with precision, well-being is nonetheless assessed and measured by means of various tangible and non-tangible indicators. These indicators highlight the fact that well-being is a multidimensional and dynamic concept that encompasses all aspects of a community (belonging, solidarity, cultural identity) and of a society (economy, politics, social fabric, culture).
For an African Continent of Well-being
In his theory of social justice, John Rawls defends the idea that well-being does not depend exclusively on material resources but includes the possession of immaterial goods such as health, power, social recognition, etc. Armatya Sen maintains that well-being is not limited to the possession of goods, whether material or immaterial, it is also a function of the action of individuals. For him, individuals are actors of their own well-being, they define it and build it according to their own standard. His reflection is at the origin of the elaboration of the Human Development Index .
The Human Development Index ( HDI ) is a measure of social well-being made operational in 1990 by the United Nations Development Program (UNDP). It is calculated according to the length of life, measured according to life expectancy at birth, education, measured by the adult literacy rate, and finally the standard of living, measured by the real GDP per habitant adjusted for purchasing power. The HDI suffered from its creation of severe criticism. Critics have contributed to its constant improvement and constant updating. Africa in 2021 was ranked the continent with the lowest HDI with an overall and cumulative performance of 0.547. This Index, although brief as Armatya Sen has pointed out, offers the advantage of providing information on various social, economic and political elements which influence the nature and quality of life. Politicians should therefore use it as an instrument to guide public policies on well-being by emphasizing its constituent elements: longevity and health; income level; educational level.
For shared well-being on the African continent, it is wise to reassess the budgets allocated to health as well as the salaries of health personnel. The production of wealth requires a healthy, hardworking and efficient population. It is also necessary to raise the standard of living of the populations by implementing effective distributive and redistributive policies in order to increase the capacity of the populations for entrepreneurship and self-employment. It is also recommended that the budgets allocated to education, higher education, research and continuing education be increased, because making education a development tool requires enormous resources in terms of advanced training and professional skills adapted to the socio-economic realities of the continent.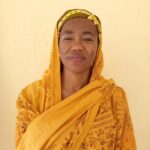 Pr. NGO TONG Chantal Marie is a Research associate in Governance & Democracy at the Nkafu Policy Institute. She holds a Ph.D. in Political Science, obtained from the University of Nantes (France). Pr. NGO TONG is also a Senior Lecturer at the University of Ngaoundéré. She is a reviewer and co-editor of the African Development Perspectives Yearbook and a member of the Research Group on African Development Perspectives, Bremen since 2019.